| | |
| --- | --- |
| | The map |
---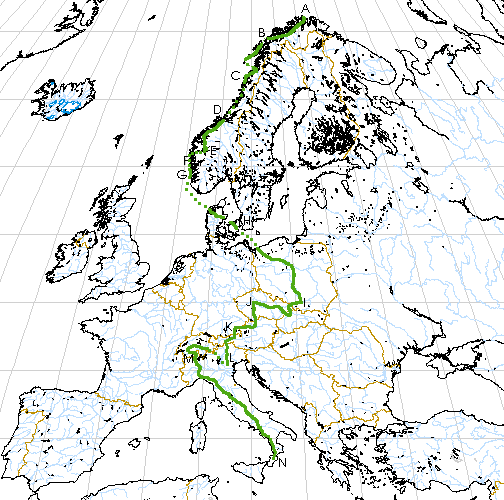 The map above shows my approximate route (there are some problems with this map: see below). The solid green line corresponds to actual cycling; the dotted green line indicates places where I used other forms of transport. Here is a key to the labels on the map:
A: Nordkapp, Norway: the beginning of my trip, on June 28, 1999.
B: Vesteralen Islands, Norway (600km): I meet Berni.
C: Mosjøen, Norway (1250km): cold and sick, I take the train with Berni to Trondheim.
D: Trondheim, Norway: Rosalba joins me on July 12.
E: Sognefjell, Norway (1800km): double tire failure; we take bus and ferry to Bergen.
F: Bergen, Norway.
G: Stavanger, Norway (1900km): ferry to Hanstholm, Denmark on July 22.
H: Copenhagen, Denmark (2300km): overnight ferry to Swinoujscie, Poland on July 29-30.
I: Krakow, Poland (3250km).
J: Prague, Czech Republic (3850km): Rosalba leaves on August 22. I head on alone.
K: Rosenheim, Germany (4350km): I visit Berni on August 25.
L: Abano Terme, Italy (4900km): Tommaso joins me on August 30. Train to Passo Bernina, Switzerland.
M: Domodossola, Italy (5450km): Tommaso leaves on September 6.
N: Serra San Bruno, Italy (7030km): arrive home on September 15.
This map is based on one generated by the Xerox PARC map server. The projection is a sinusoidal projection in which the linear scale along the parallels and the central meridian is correct. There are some problems with this map:
The borders for several countries in eastern Europe and the former Soviet Union are incorrect, because the data used by Xerox in its map server dates from 1985-1990.
The meridian grid lines are centered on the center of the map, and are not whole degrees of longitude from Greenwich. This strangeness is due to the simple way the coordinate system rotation was implemented in Xerox's map server.
My labeling is only approximate: I manually tried to correlate places on a paper map of Europe with points on the image returned by the map server.
Nonetheless, this was the best free map I could find online at the time of this writing (1999).


---